I took a bit of a hiatus from the blog as it has been difficult to find the motivation to research and write. It has been a bit of a struggle to find topics I am passionate with especially with the worries of the past year. I recently took a trip to New York City and I found a bit of that passion once again. I visited Ellis Island and it was a great museum where I learned quite a bit. One small information blurb at the museum really caught my attention. From 1854-1929 the Orphan Trains delivered about 200,000 children to different homes in the American West. I thought this was incredible and I quickly wanted to learn more.
Due to the influx of immigration during the late 19th century, large east coast cities (like NYC and Boston) were having problems with large masses of orphaned children living on the streets. In New York City, it was estimated that there were about 10,000-30,000 children living on the streets. These children may have been abandoned by parents who no longer wanted them/could not afford them or some, sadly, lost their birth parents due to disease (typhoid/yellow fever epidemics), addiction, malnutrition/poverty, or freak accidents (especially through dangerous work accidents). These children were force to turn to desperate measures to survive. They formed gangs who would steal in order to stay fed and clothed. They may have terrorized some of the neighborhoods, but they were just trying to survive in the difficult world they were born into. They were often taken advantage of and arrested as adults. There were some poor houses, asylums, and orphanages that were formed to try and control this, but these were overcrowded and abusive. These children were given no help to better their lives at this place. There was minimal education opportunities, food, and attention.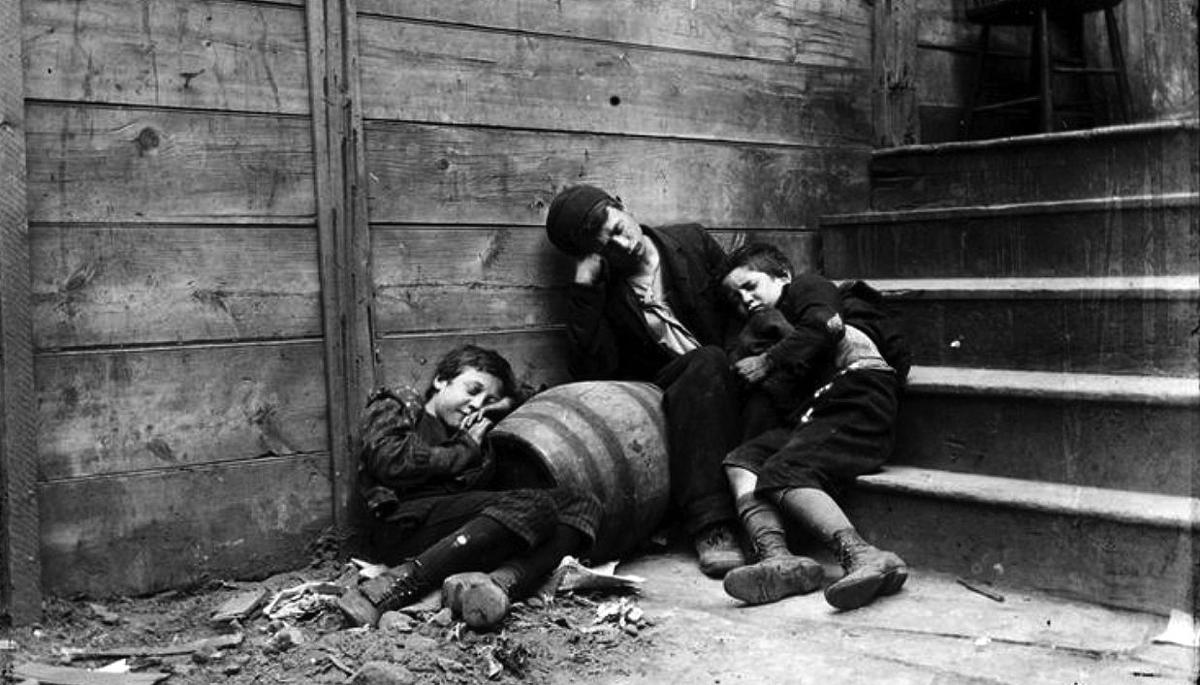 Charles Loring Brace founded the Children Aid Society. He felt that there was a better way to control the homeless situation and try to actually help the children who were alone. He thought that they would have better opportunities if these children were sent West with the goal of finding a family to take them in. Many families who had moved West needed the help on their farms and homesteads that these children could provide. It seemed a win-win for both sides.
On September 1854, the first train was sent out to Dowagiac, Michigan. By the end of the program, over 30 states accepted new children. Most were located in the Midwest. Fliers were placed out in advance at the towns that the trains were arriving in order to search for families where the children could be placed. Some were placed with families in advance, but others it was whoever came to make a bid for them upon their arrival. Many of the children had no idea where they were going once they boarded these trains and this would be a very upsetting time for them. For others, this was a grand adventure. Overall, the children themselves did not have much choice in where and who they were going to.
When the trains arrived in town, prospective "parents" came from miles around to see. The children would finally get off the train upon arrival and be stunned (and possibly frightened) to see the crowds craning their necks to see if there would be a child they could bring into their family. The Daily Independent of Grand Island, Nebraska (1912) reported, "some ordered boys, others girls, some preferred light babies, others dark, and the orders were filled out properly and every new parent was delighted." The children were often inspected and encouraged to "show off" including singing, dancing, etc. Sometimes there was a lot of competition for a certain type of child (boy vs girl, ages, appearance, etc). After selected, the children were given a new outfit and a bible to start off their journey. Lee Nailling was one of the children who left on one of these trains from New York City. He left with his two brothers and spoke about his arrival:
"Then we were instructed to go stand at the front of the church, where a lot of adults began coming in and crowding around us. I picked Gerald up and glared at the milling adults. Leo grabbed hold of my leg as a tall man dressed in overalls approached us. The man reached out and felt my arm, I stared straight ahead, "A bit scrawny," he commented, then moved on down and chose number 30.
Number 30's face turned white as he left the line with the man. A smiling woman wearing a flowered dress joined them. Then they walked to a table filled with papers, where some of the caretakers were sitting. Soon other numbers were called out, and by the time we left that afternoon to board another train, several of the children were gone.
Two days later my brothers and I had survived several lineups in many different towns. Each time we were inspected I was terrified we'd be chosen, and then when we weren't, I was angered and believed that people thought we weren't good enough. But I was relieved that we were still together. I'd seen other brothers and sisters separated, and as I listened to their loud sobbing, I wondered "How can I stop them from separating us?" (https://orphantraindepot.org/history/orphan-train-rider-stories/lee-nailling/)
In the end, Nailling was separated from both his brothers. This was a common occurrence during the program as many families could only afford to take in one child. He was moved between a few families before finally finding his permanent home with the Nailling family in Texas. In this case, he found a loving family who longed for a son and found the happiness that he sought. In a lot of cases, the children did find new loving homes who adopted them as their own children. Every family who participated in this program were required to clothe and educate the children who they fostered and many did adopt the children who went with them. There were many pros to the program. The children had an opportunity to received education (and possibly higher education depending on the family), they could find a loving household, they would be fed and clothed, they would be safer than living on the streets and could overall obtain a better life.
Naturally, there were those who abused the system as well and some of the children did not find the same success. Some families did take in the children because they were solely looking for additional labor help. Some children were mistreated and abused (verbally and physically) which caused many to become runaways. Some were threatened to report that everything was okay to the Children's Aid Society representatives who came to check up on them. Those who were against the Orphan Train program found too many similarities to slavery with these children being "auctioned off". The orphans were also held to a much higher standard than the families natural born children (likely because they were viewed as obtaining a product). A lot of the children moved between different houses as they were returned by their foster family. These could be for the smallest instances (they did not like the child's attitude, an instance of stealing a cookie, was not the appearance they were looking for, etc). This could cause a lot of damage to the growing child's self image. Some children had to be moved for more practical reasons such as financial costs or sickness.
By 1830, the amount of Orphan Trains had greatly decreased. There was a lot of criticism by those who fought against child labor and those who felt the system was very akin to slavery. With new laws protecting children, transporting them to be placed across state lines became illegal. Additionally, more welfare programs began to be developed to support families and children. State and local governments became more involved to prevent children ending up on the street and the population of orphans was greatly reduced. In 1912, the U.S. Children's Bureau was established as well whose goal was to accomplish all that was stated above.
The Orphan Trains definitely had many pros, but also some cons as well. Some children were so young when they were transported they did not even learn that they were aboard the Orphan Train or that they had birth parents until later in life. Many of the children transported went on to have good lives (and likely lives that they would never have had if they were left on the streets). Some went on to have careers and attend university, many were married and had families of their own, and many were able to make their new state their home. Fred (Engert) Swedenburg was six years old when he was transported and then adopted by the Swedenburg family in Nebraska. He had been given up by his family in New York due to "scandalous neglect". He lived a happy life and was lucky enough to have his sibling adopted by a family only 20 miles away. He was treated as the Swedenburg's true born son and even received inheritance. Yet, when asked later if he could go back and have a choice in riding the train to Nebraska, this was his response:
"When asked by one boy if he had a choice would he ride the train again to come to Nebraska. Swedenburg slowly shook his head and said no. Swedenburg asked the boy how he would feel to be taken from his family and put in a new home and the boy's face fell as he looked at the floor."( https://orphantraindepot.org/history/orphan-train-rider-stories/fred-engert-swedenburg/)

Did any of your ancestors ride the Orphan Trians?
Sources:
https://www.newyorkfamilyhistory.org/blog/orphan-trains-brief-history-and-research-how
https://www.pbs.org/video/university-place-brave-journey-orphan-train-rider/
https://www.washingtonpost.com/wp-srv/national/horizon/nov98/orphan.htm
https://www.history.com/news/orphan-trains-childrens-aid-society